20
/
Nov
2017
Today was a flight day! Yay!
Morning in Phuket
We had a brief snack, then walked over to the Sirinat National Park. The park checkpoint was unattended, so we walked through until one of the women raking leaves took us back to the checkpoint to pay the admission fee (200 baht for adults). We declined, and walked a short way down a sideroad that I had read about, before realizing it was too hot to follow the detour all the way.
The end goal was originally to reach the section of the beach with a good view of planes taking off and landing from the Phuket airport. If you rent a motorbike, it's possible to get there without paying, by taking the left turn immediately before the checkpoint and following that road all the way around. It was already late in the morning and we didn't have a scooter, so after a short walk down the detour road, we turned around and headed back to the hotel.
On the way back, we gathered a small feast from Family Mart and 7-Eleven for a combined breakfast and lunch, cognisant of the fact that meals were expensive in the airport.
Our hotel, My Place Phuket Airport Mansion had a free airport shuttle, so we stayed as late as we could (12pm) and then requested a shuttle ride to the airport. The receptionist took us out in a taxi on the brief 9 minute drive and dropped us off at the international departures (but not without nearly hitting another car).
Phuket Airport
We arrived early and check-in hadn't opened yet so I wandered around for a bit while S sat with the bags. When I came back, Thomas who was flyinig out to Hong Kong was chatting with S.
We checked in - but we were a couple kilos overweight on each of our luggage but they didn't say anything and we didn't either! We cleared passport control (fortunately we never lost the Thai departure card!) and claimed the 550 THB tax refund due on the purchase of my camera near Gate 15. All that was needed was the PP10 form filled out at PowerBuy and my passport.
Curiously enough, the power went out repeatedly in the airport. It seemed to delay some of the operations, as we met up with Thomas again at his gate and the passengers of the Thai Airways plane were unable to disembark because the ground crew couldn't move the jetbridge into position. Eventually, we went to our ground level gate and a bus whisked us away to the tiny Firefly plane.
Firefly FY3605
We boarded flight FY3605 which was an ATR72-500 - a turboprop plane that had seen better days. The seats were visibly worn and many of the overhead compartment doors didn't pop up all the way creating hazards for tall people. As the plane rolled along the taxiway, the creaks and groans didn't inspire much confidence but it still managed to take off safely. Despite all this, the plane had apparently been manufactured in 2011. HKT - PEN is a leisure route and Firefly is the only airline flying this route, so we had little choice regardless for this 55 minute flight.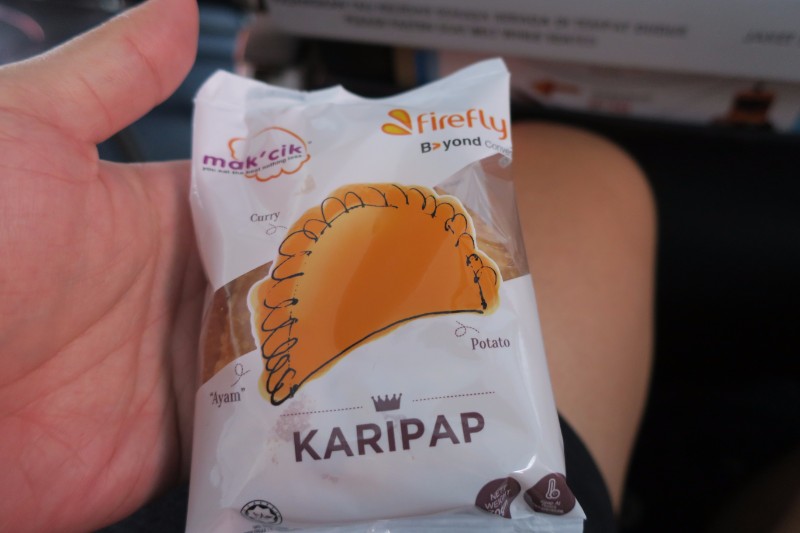 Penang Airport
We landed and walked from the tarmac into the terminal where we cleared customs. There was a TUNE Talk and a Maxis SIM card sales counter immediately before luggage, but we ignored this. Outside at arrivals, I was informed there wasn't a 7-Eleven in the airport in order to buy a SIM card and the counter for XPAX (Celcom) only carried expensive SIM cards, so we gave up on getting a SIM card and focused instead on getting to our hotel.
Uber was demanding surge pricing at about 36 ringgit, so I instead used Grab on the airport Wi-Fi and tried to secure a 20 ringgit ride using JustGrab, which would get me either a taxi or GrabCar both at the 20 ringgit rate. After a couple of unsuccessful attempts, I tried once more choosing GrabCar this time and got a driver with a Proton Persona.
Mohammed didn't get out of the car to greet us, but we nevertheless loaded up the trunk and back seats with our baggage. Mohammed drove his car smoothly through the rush hour Penang traffic, taking an alternate route using Waze in order to avoid traffic. His English wasn't the best, but during our chat we learned that his full-time job was a policeman at the airport and that he hailed from the nearby Bayan Baru where lives with his wife and 1-year old daughter. It is hard to believe that it is even profitable to drive over half an hour for 20 ringgit (~$6 CAD) before counting fuel or maintenance costs, but that was the cost of the GrabCar in Penang from the airport into Georgetown.
B Street Hotel
We checked in. The room was small, large enough to fit a queen-size bed, a couple suitcases and a washroom. But it was newly renovated and located very close to a lot of sights. We paid 100 ringgit security deposit and 36 ringgit of tourism tax on check-in.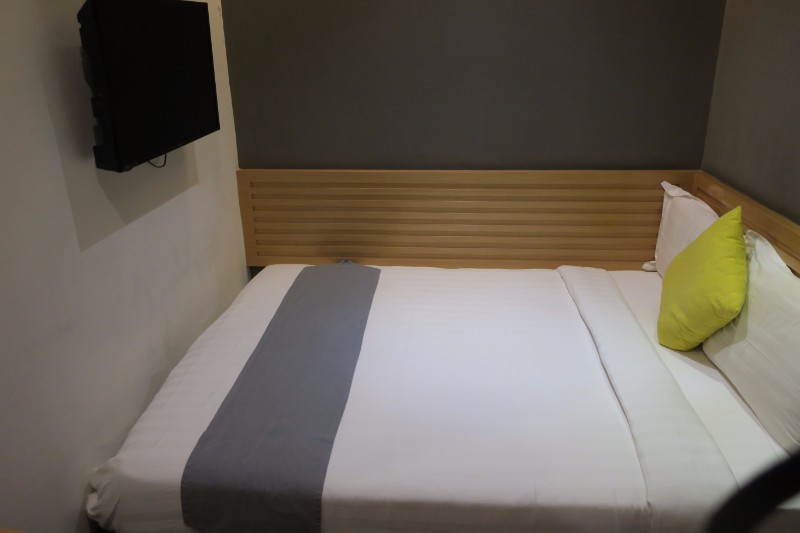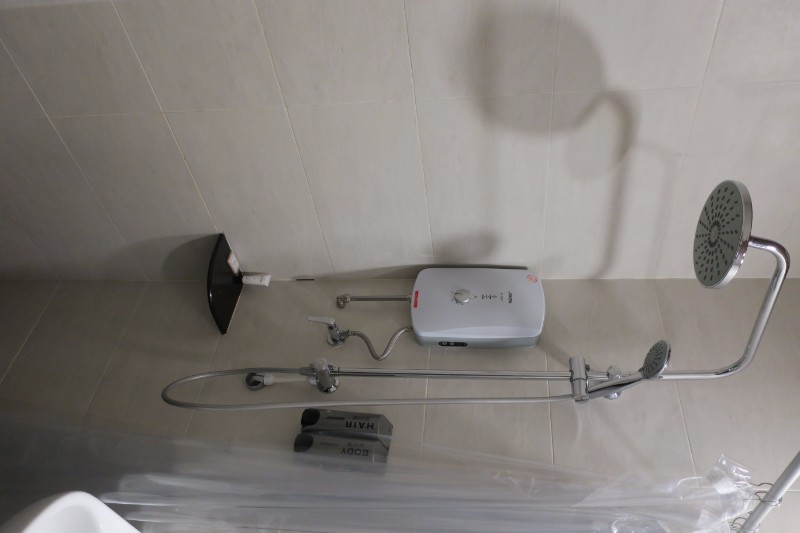 Late Dinner in Penang
We were hungry, so we went out to the hawker stall on the corner, Kuay Teow Th'ng and had two delicious bowls for 5 ringgit each. S says this is (again) one of the best bowls of noodles she's ever had, much better than anything in Toronto. And yes, I think I digested everything fine too. :)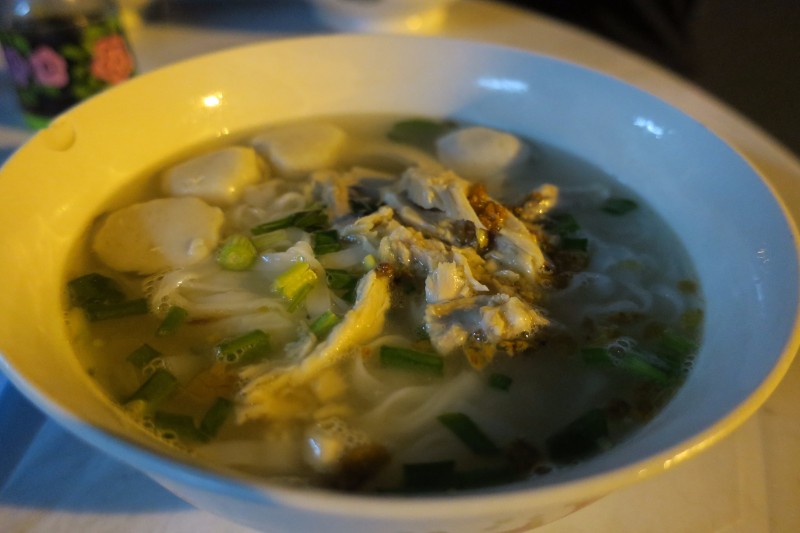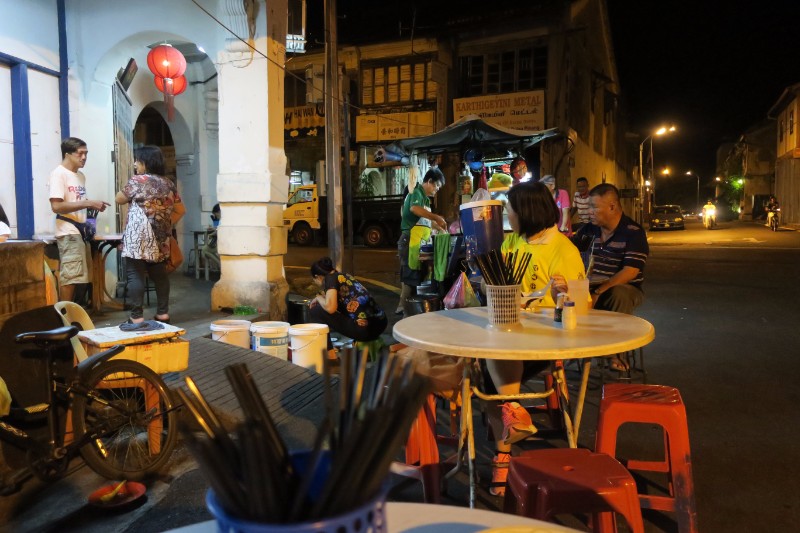 Afterwaards, we headed to Two Buns where we had a Mr. Bao burger, with fries and soda (20 ringgit, ~$6 CAD). We weren't that hungry at that point, but thought we might as well get our money's worth trying lots of foods. The burger I thought was good, about 4 out of 5.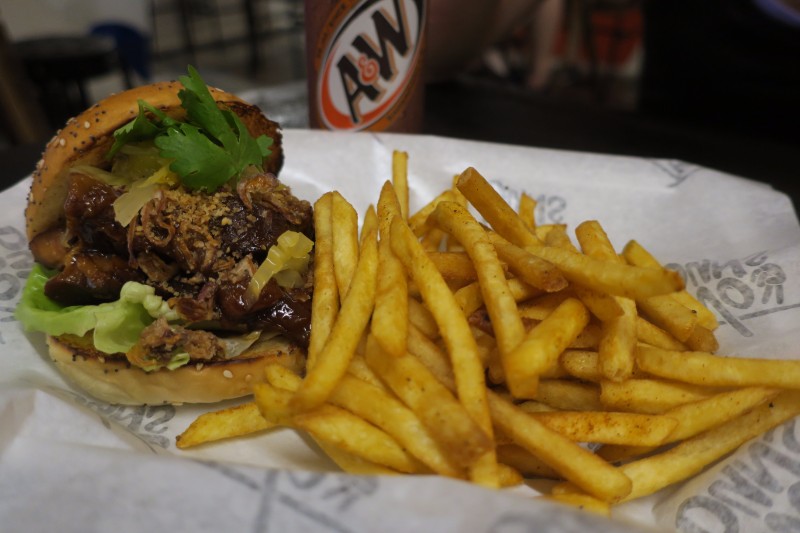 We went to the nearest 7-Eleven to get the U Mobile SIM Card. There was a current promo, where for 15 ringgit (~$4.50 CAD), you could get a U Mobile SIM Card (normal price 8.50 ringgit) and a 10 ringgit top-up. There were also additional bonuses if both were purchased simmultaneously - 1 GB of free high speed data, 2 GB of 'basic' data, APP-ONZ - 'unlimited' data for Facebook Twitter and Instagram, and with 10 days of validity. This SIM card package was far better priced than any of the other tourist SIM available at the airport. Even better, the cashier was able to activate the SIM card on the phone, instead of having to fill out paper forms like we did in 2016 at Kota Bharu. As foreigners, we had to bring our passport to have the SIM card activated and the U Mobile SIM cards were in a locked box right beside the cash register on the counter.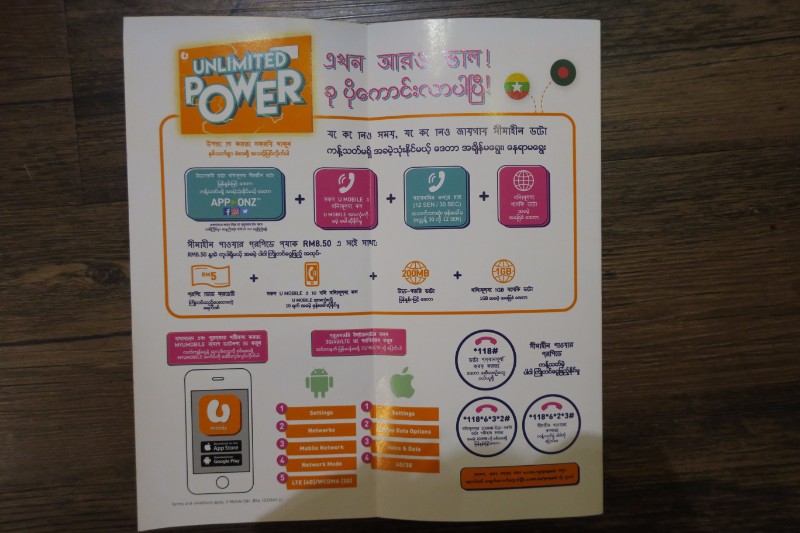 We took a quick walk through the old streets before retiring back to the hotel. A quick peek of the hotel's beautiful rooftop patio gave a great view of the surrounding area.