10
/
Nov
2017
Today was a flight day! All we did was sit on planes! Yay!
TTC to Airport (Line 1, Line 2, 192 Rocket)
We left late for the airport with very little time to spare, leaving College Station at 1:09 and arriving at 2:19, just an hour and ten minutes before the flight. On the way, we chatted with a friendly operator on Line 2 who had previously worked for Mercedes for 37 years, including 12 years in South Africa before being let go due to restructuring. 37 years of loyalty didn't mean anything at that point.
Pearson Airport
When we arrived at the airport, we made use of the deserted SkyPriority line (we're both Silver Medallion on Delta) and even got SkyPriority tags on our luggage. The SkyPriority line was supposed to have chocolates and cookies, but there were almost none left by the time we got there. The check-in process took a long time, since our agent seemed to be a manager of sorts, and had to troubleshoot all the other agents' issues.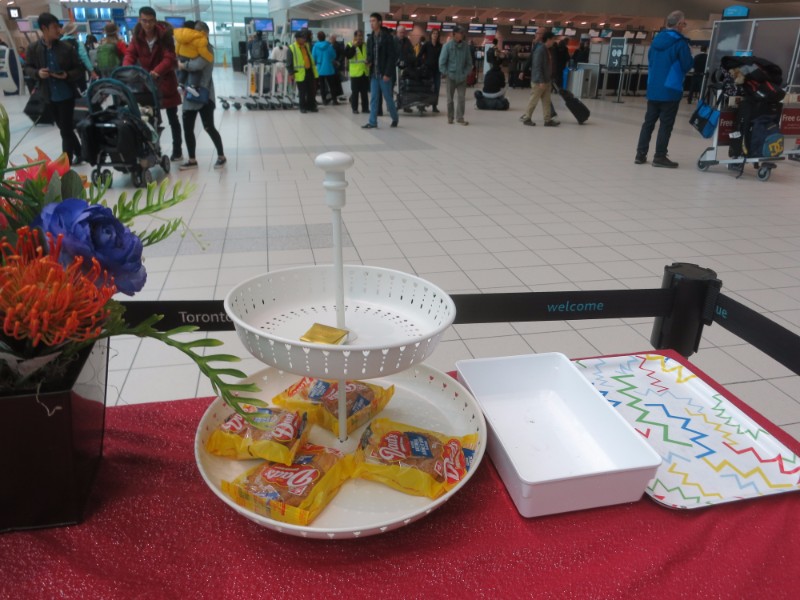 The security line was short, regardless of our NEXUS cards and before long we found ourselves at the incredibly chaotic gate which had already begun boarding. We jumped the line with the SkyPriority lane and were onboard very early into the boarding process.
MU208: YYZ - PVG
Onboard the plane (a new Boeing 777), the seats weren't cleaned well. On my seat, a pen cap had been left behind, a number of stains were left on S's tray table and my tray table had a bonus napkin already sitting on it. There was already garbage in S's seatback pocket. The seats were noticeably more spacious than Air Canada's configuration though, with about an inch more legroom and an extra inch in seat width.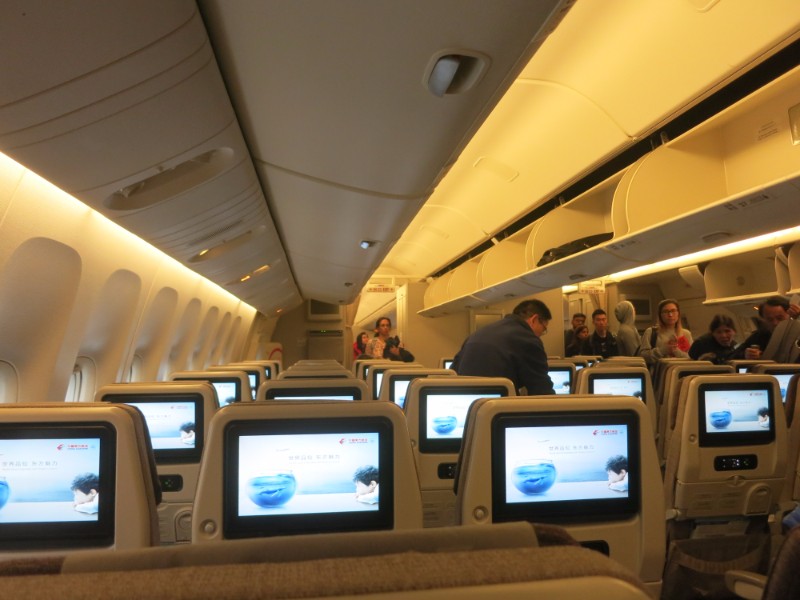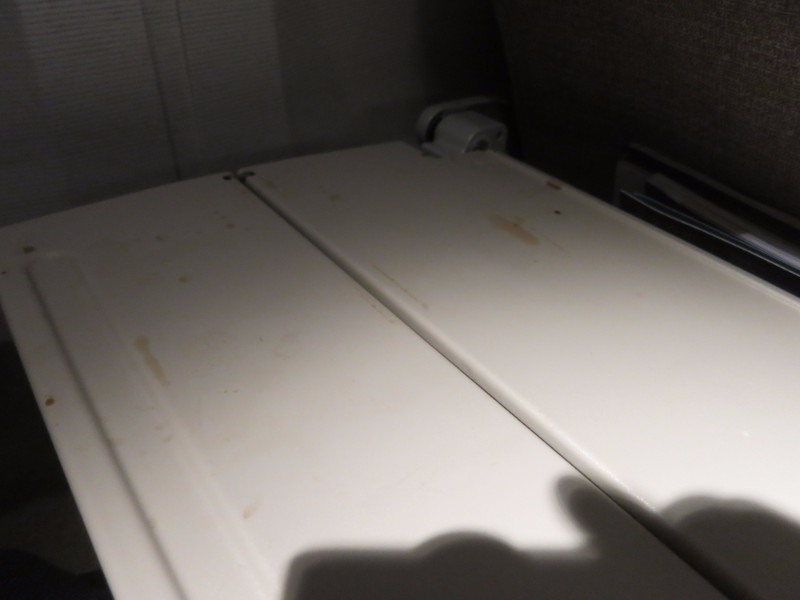 We met Dave, our seatmate for the Transpacific flight. Dave had a far more exciting itinerary than we did, and will be in SE Asia for the next year, starting with Ho Chi Minh city! We had a good time chatting with Dave - his family runs the Granite Brewery, a microbrewery and restaurant at Mt. Pleasant and Eglinton which I've definitely passed by before. I've made a mental note to stop there next time for brunch - they have free underground parking for customers!
As we expected, the service wasn't great on China Eastern. The flight attendants' English was poor and naturally they assumed we spoke Mandarin. The descriptions of meal service was "Chicken or Beef". The flight attendants spent much of their time dealing with passengers who wandered when the plane was taxiing, making sure that people had their seatbelts on and enforcing their strange rule that nobody use a cellphone (even in airplane mode).
The plane's entertainment system had a decent selection or recent movies. The best source of comedy though, were the poorly translated notes for each film.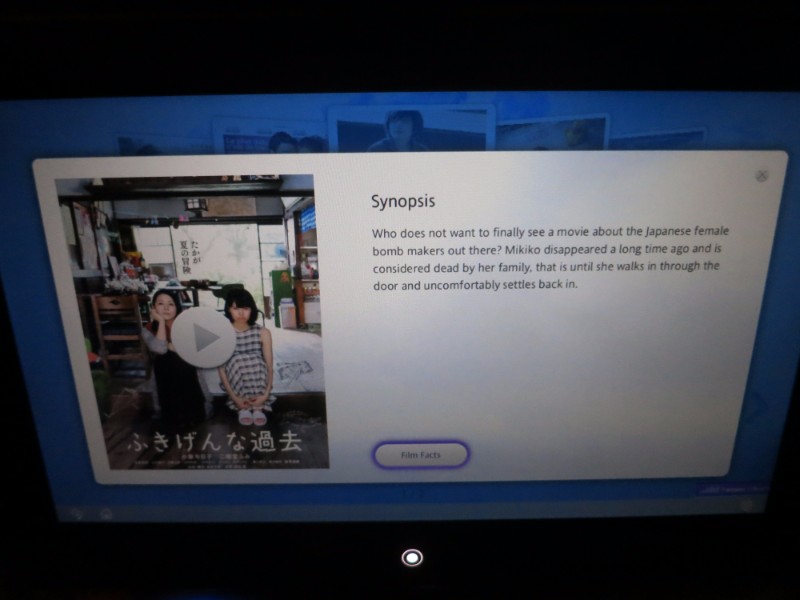 I spent most of the flight asleep, listening to the album History of Tomorrow by Mayday (五月天). The food was plentiful, but the quality was only okay. There were two meal services, separated by one mid-flight ham sandwich. The chicken on rice was good. The sweet and sour pork on rice was not as good - the rice had gone dry as it had been several hours since the plane had left Toronto.
Meal Service 1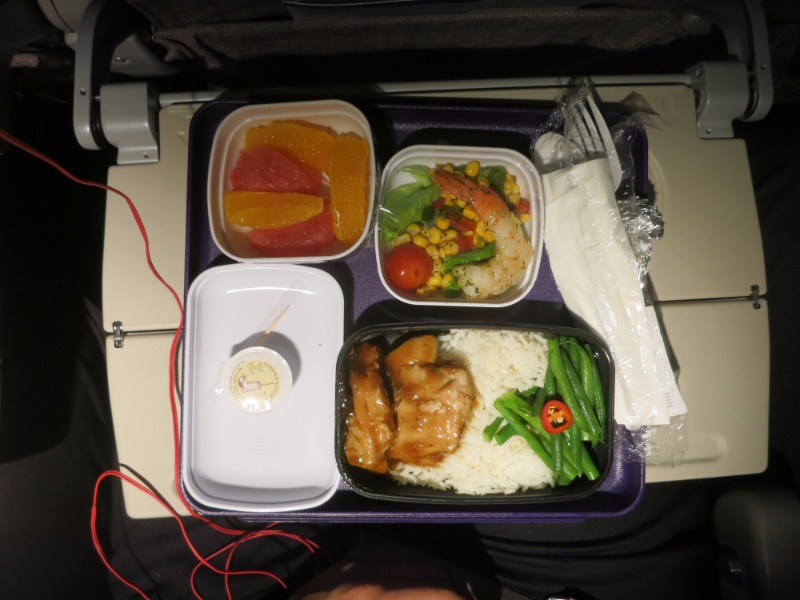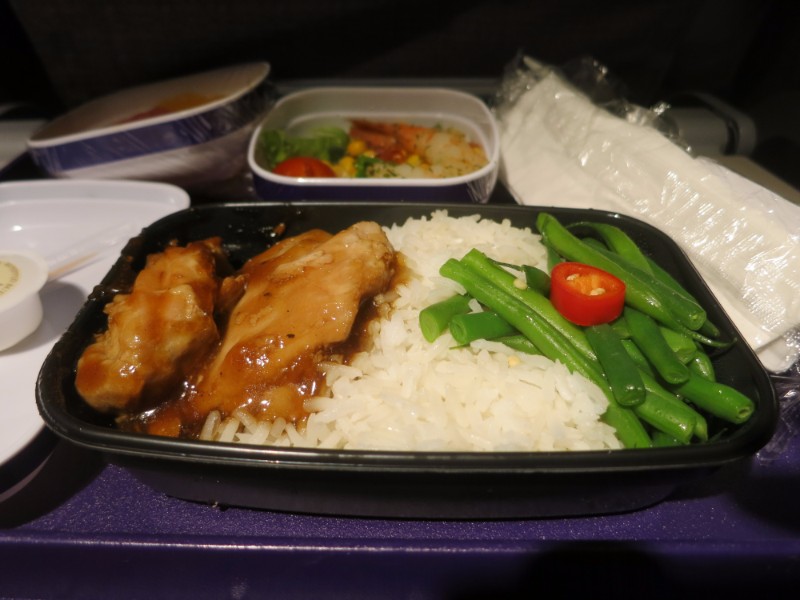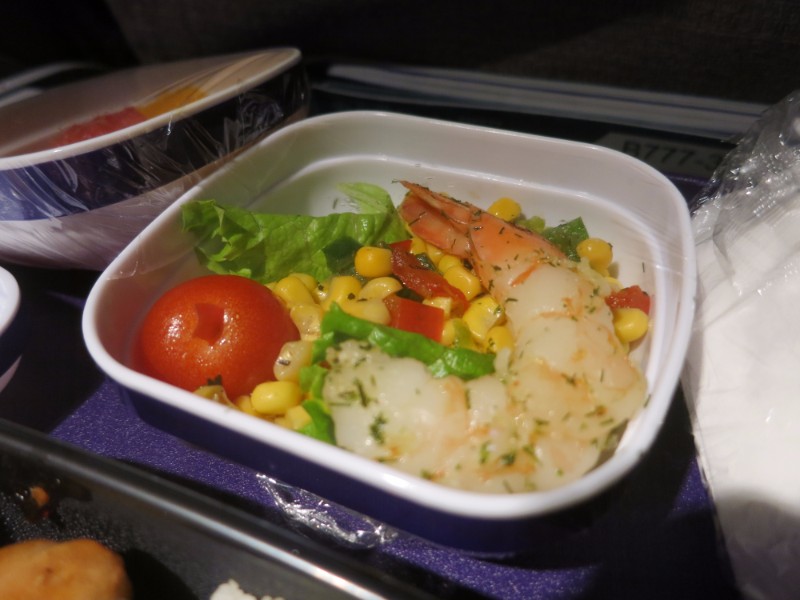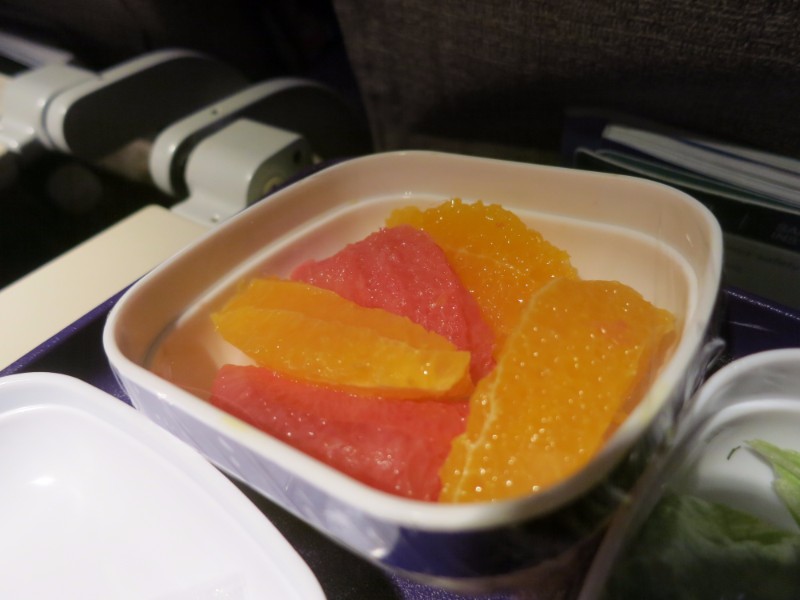 Ham Sandwich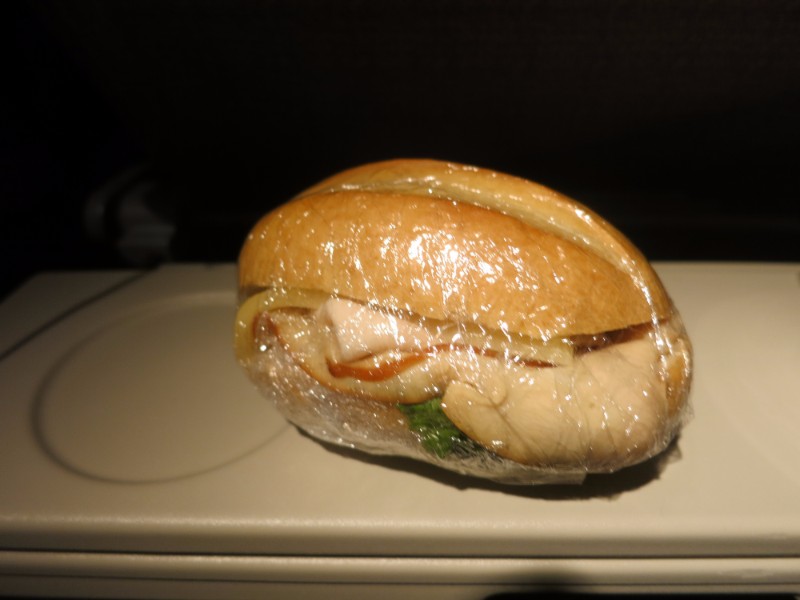 Meal Service 2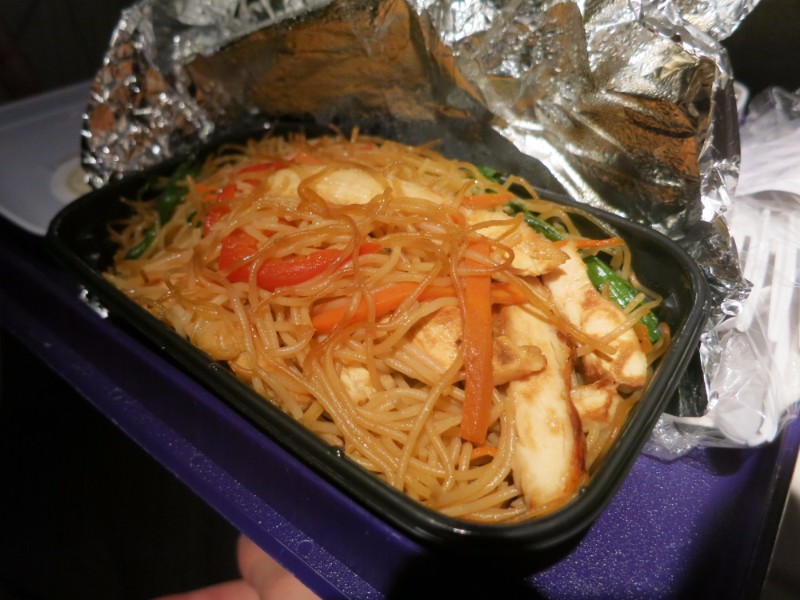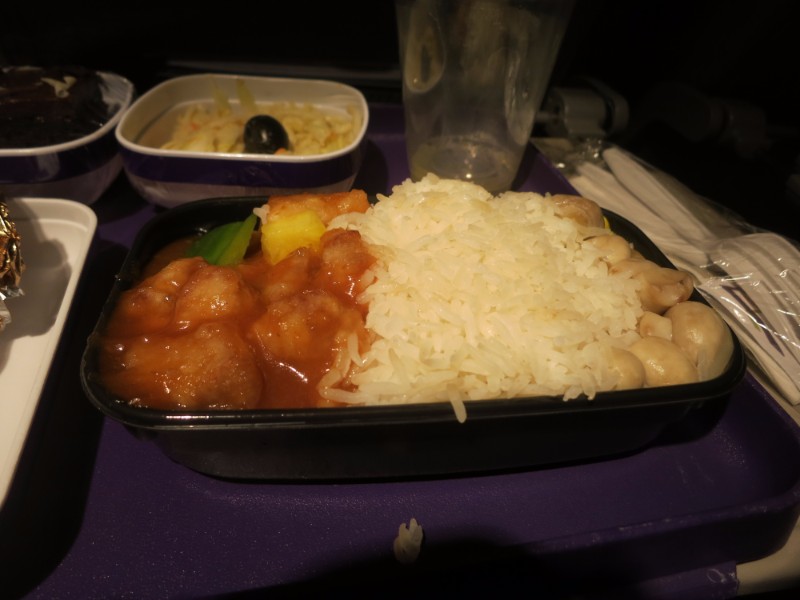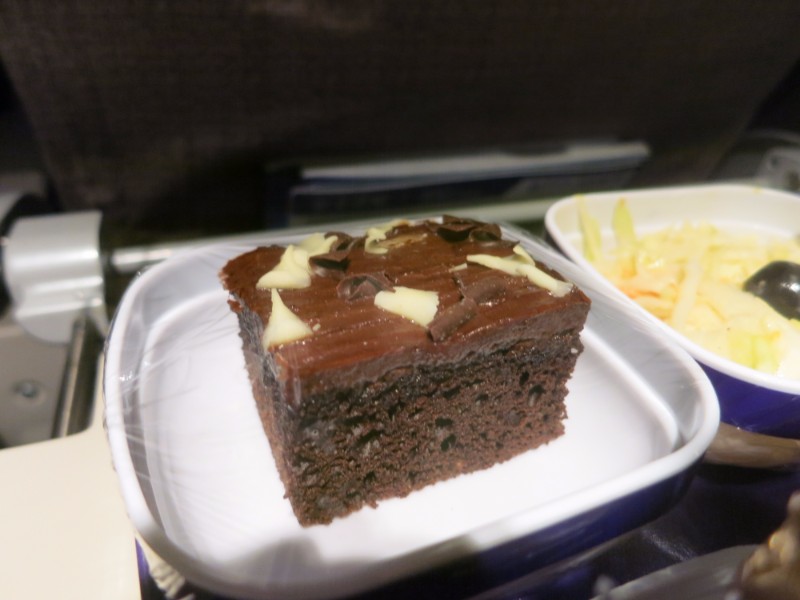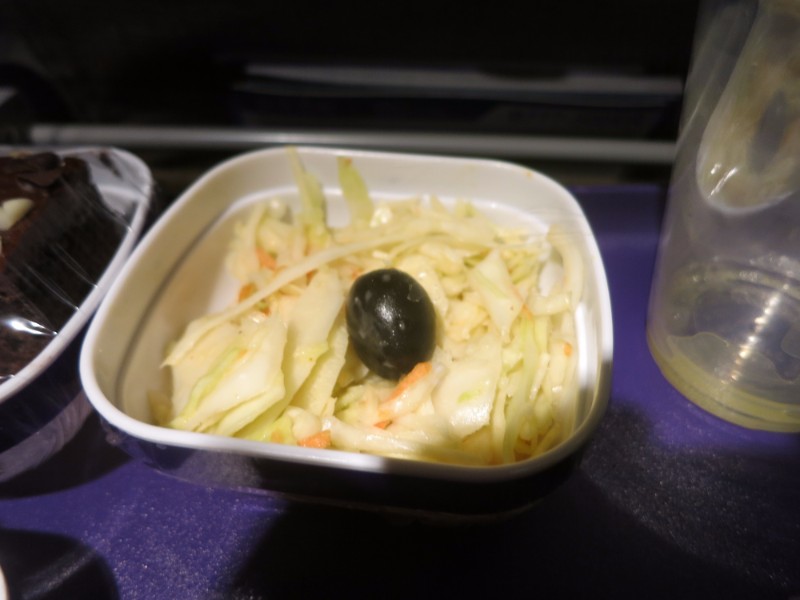 If you're considering flying China Eastern in the future, note that you need to book special meal requests via their website greater than 24 hours before the flight, including requests for vegetarian meals. Also, there is free Wi-Fi on the flight, but nobody has any clue how to access it, and the English landing page is not very helpful. In the past, you could have accessed by "applying" in advance and receiving a code, or asking a flight attendant for a code to connect. Now, it looks like maybe they have severely limited the Wi-Fi to certain Chinese news sites. Regardless, if you do figure out how to connect, also note that you'll be trapped behind the Great Firewall of China and won't be able to access Google or Facebook.
PVG Airport
The connection at Shanghai was the same as last time. They offloaded all the passengers onto the tarmac and shuttled everyone by bus to the main terminal. After parting ways with Dave, we helped Chulin purchase some wine at the duty-free and found our gate. The Wi-Fi in the Shanghai airport is free, but you either need to receive a text to use it, or find a very well-hidden terminal in the airport. Despite being the hub airport for China Eastern, amazingly there was no help desk for China Eastern available airside to add S's Skymiles account to her ticket. When we went to board our next flight to Phuket, there was only one gate agent boarding passengers, and she only opened the SkyPriority lane when we asked. Of course, we had to board yet another shuttle bus to our next flight and once you push into the crowd to get on the plane, the first security officer inspects your ticket and then tears a chunk of it off, while a second one marks a checkmark onto it with pen.
FM831: PVG - HKT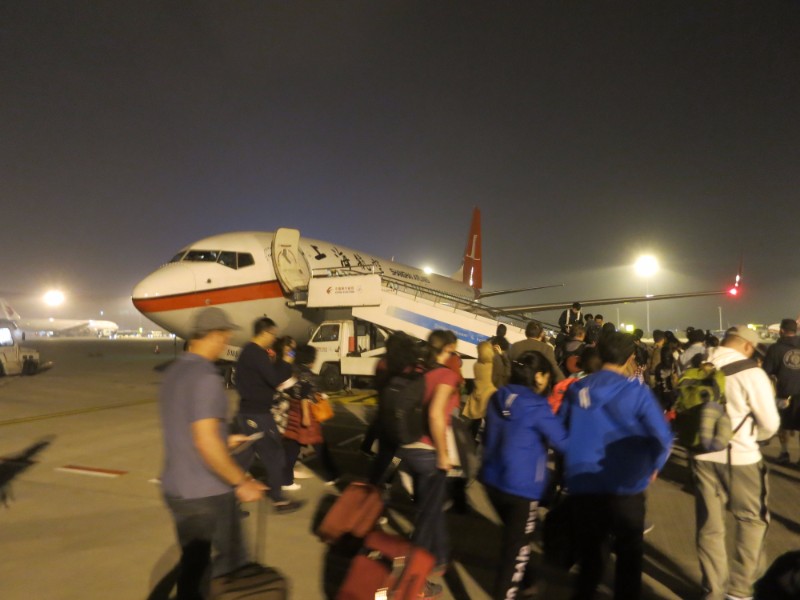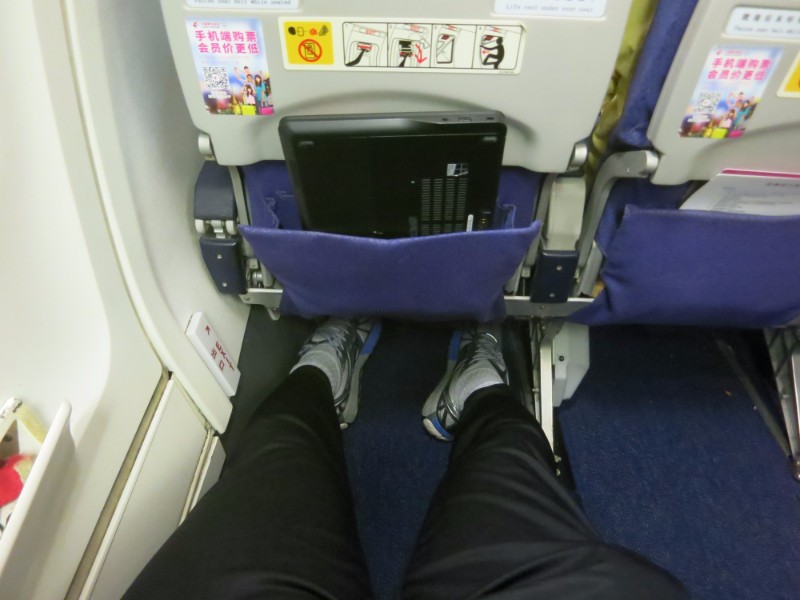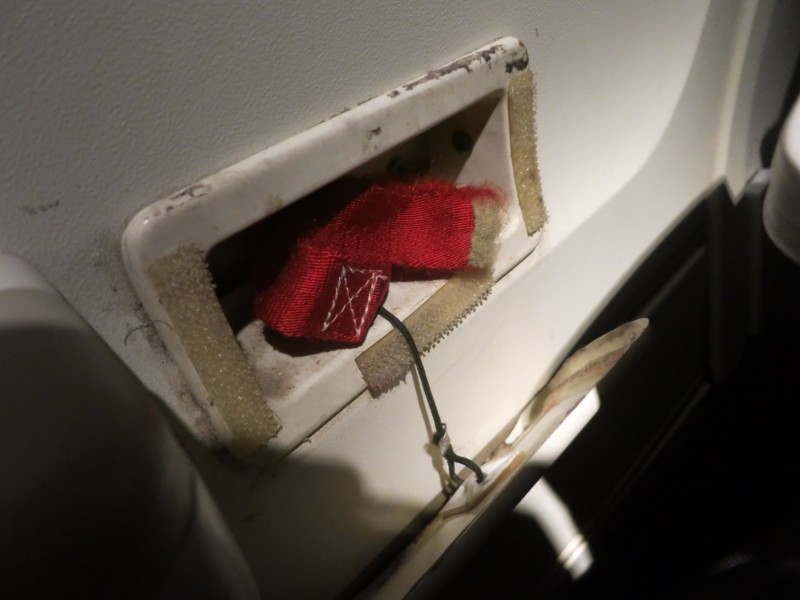 The next plane was a Boeing 737 operated by Shanghai Airlines, a subsidiary of China Eastern. With ceiling-mounted TV sets and an emergency exit that was falling apart beside me, it was a definite downgrade from the previous Boeing 777. I thought I had a seat with S, but it turns out the agent in Toronto had given us two window seats (but mine was an emergency exit row window). My instructions from the flight attendant at the start of the flight consisted only 'Don't touch the emergency exit' and to stick my laptop in the seatback pocket rather than beneath the seat in front of me. There was one meal service on this flight, consisting of a meat bun and a dessert bun, as well as blueberry juice.
FM831 Meal Service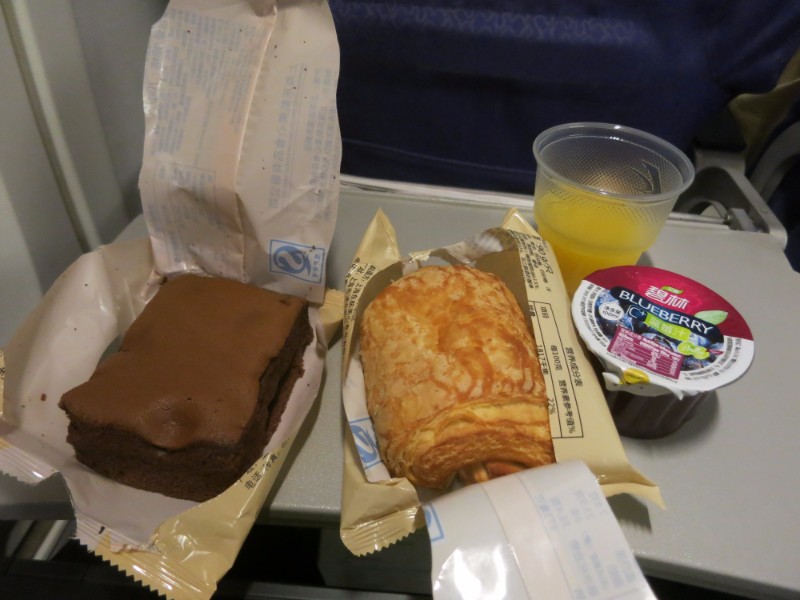 In general, I'm quite pleased with how China Eastern recognizes the lowest tier SkyTeam Elite members. Having access to all the SkyPriority lanes, even in the hub airports makes for very smooth travelling. In comparison, Delta / KLM / Air France often limit the SkyPriority benefits to flyers who are at SkyTeam Elite Plus.
The flight I've described probably doesn't sound that great, but you do have to reflect that you get to fly nearly brand new planes for $650 round trip, with most of the difficulties due to language barriers. I would still fly China Eastern in the future… at the right price point - after all the most important part for us was getting from Point A to Point B.
Phuket
We arrived at the Phuket airport at 1:10am on Nov 11, where our driver was waiting for us with a sign with my name. The transfer to our hotel was arranged via Phuket Best Tours which we had taken before, and offered the best price at 800 THB (~$36 CAD) to the Kata beach area, to be paid in cash at the end of the ride. My preference would have been credit card payment in advance, but I can't argue with a cheaper price. Kata Noi Resort reception was still open when we arrived in the middle of the night and we checked in at 4an, ran over to the nearby Family Mart for drinks and snacks before settling in for the night.
Katanoi Resort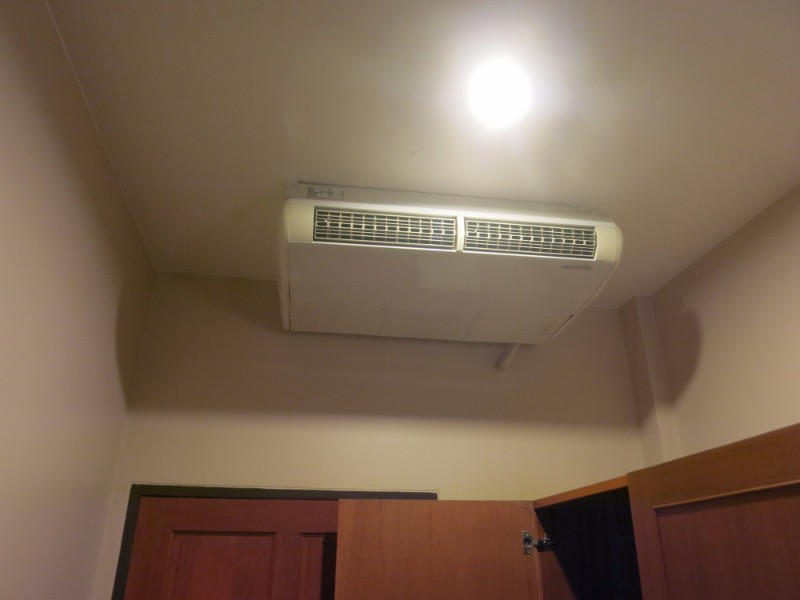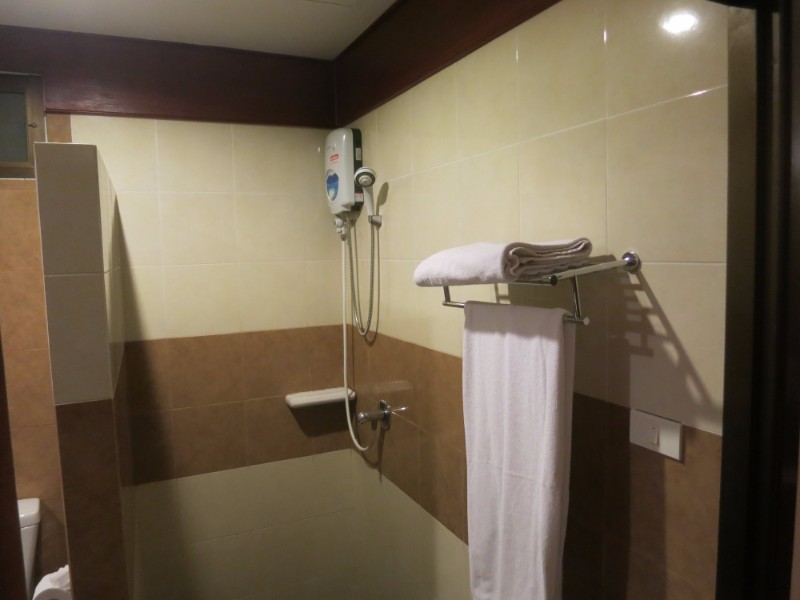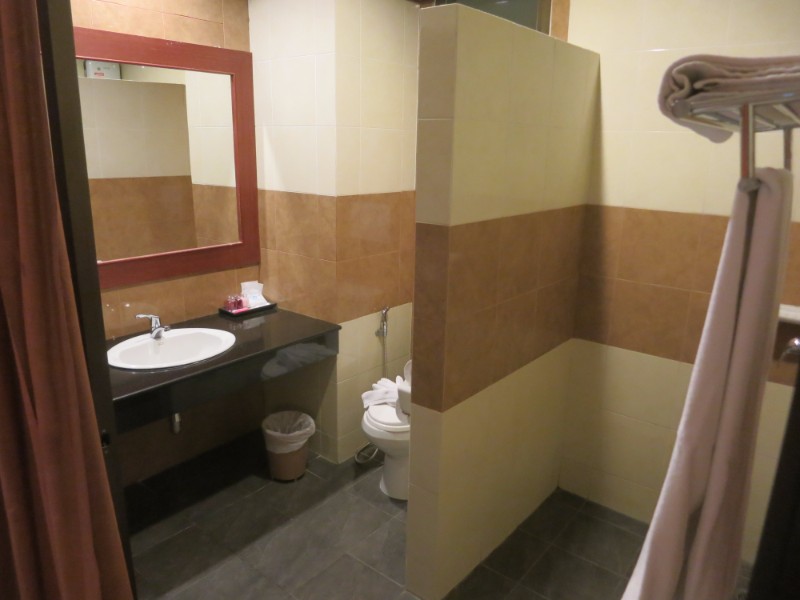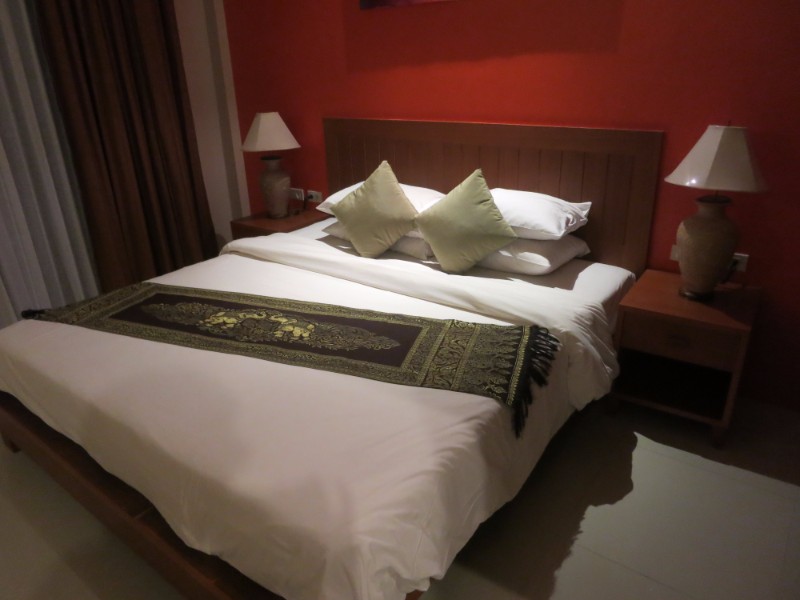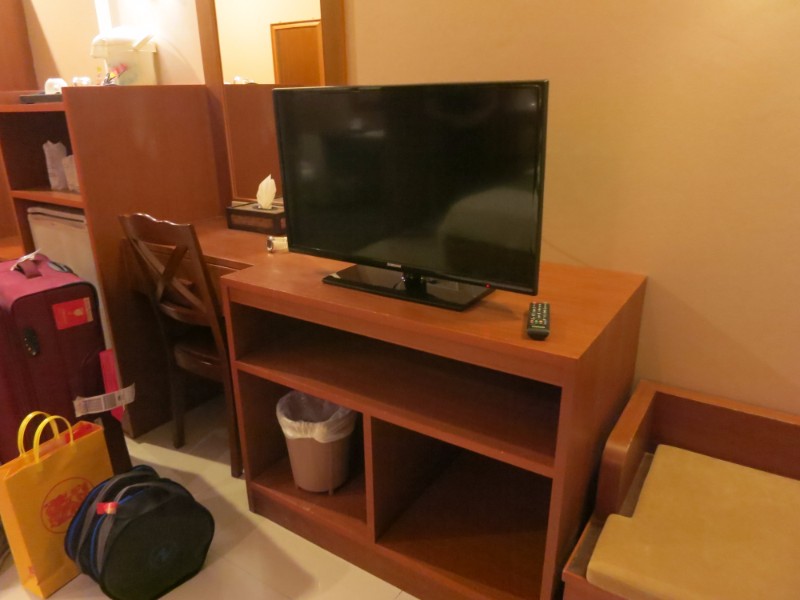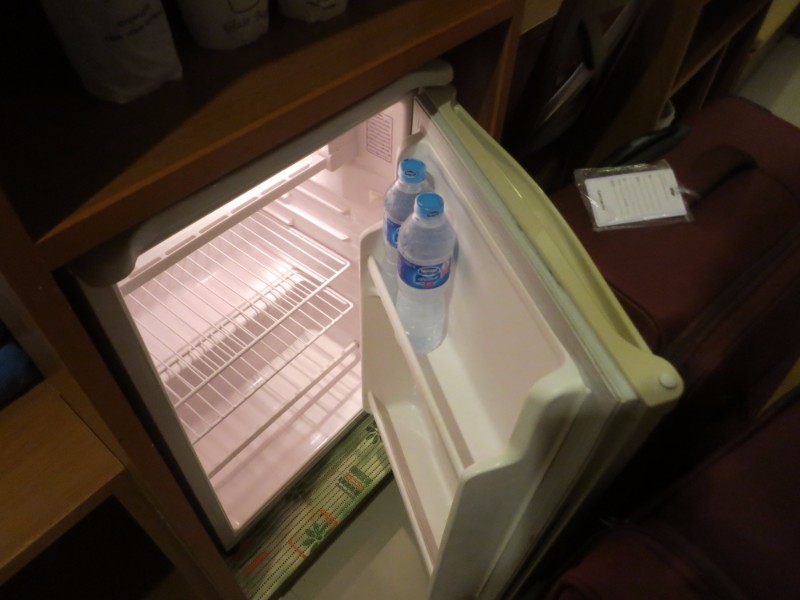 Family Mart Food and Snacks
Family Mart is a Japanese convenience store chain (aka Famima). 7-Eleven and Famima in Thailand have great convenience store foods at prices far cheaper than in Japan. Only Famima carries onigiri rice balls. While we were there, they refused to sell us a "ZEED" sim card for the AIS telephone company (I had selected this one specifically because it gave 500 MB at a low cost of 50 THB ~ $2 CAD).